FORTHCOMING
TRANSGRESSIVE CULTURES CONFERENCE
9-10 November 2017
University of Chicago Center
6 Rue Thomas Mann
75013 Paris
France
Organized by Jack Sargeant whose latest books are Flesh and Excess: On Underground Film (Amok Books, 2016), and Against Control (Eight Millimetres, 2015). His previous works include Deathtripping: The Extreme Underground and Naked Lens: Beat Cinema.
Thursday November 9th
12:00 pm The Intermedia Works of Gast Bouschet and Nadine Hilbert
By Amelia Ishmael
Amelia Ishmael is a curator and writer who specializes in visual art's trans-disciplinary relations with experimental musics. Since 2003, Amelia has written catalogue essays, monographs, long-form articles, and exhibition/performance reviews for numerous international and regional arts and culture publications. She is currently an editor at Radius (an experimental radio broadcast platform that features artists who engage the tonal and public spaces of the electromagnetic spectrum).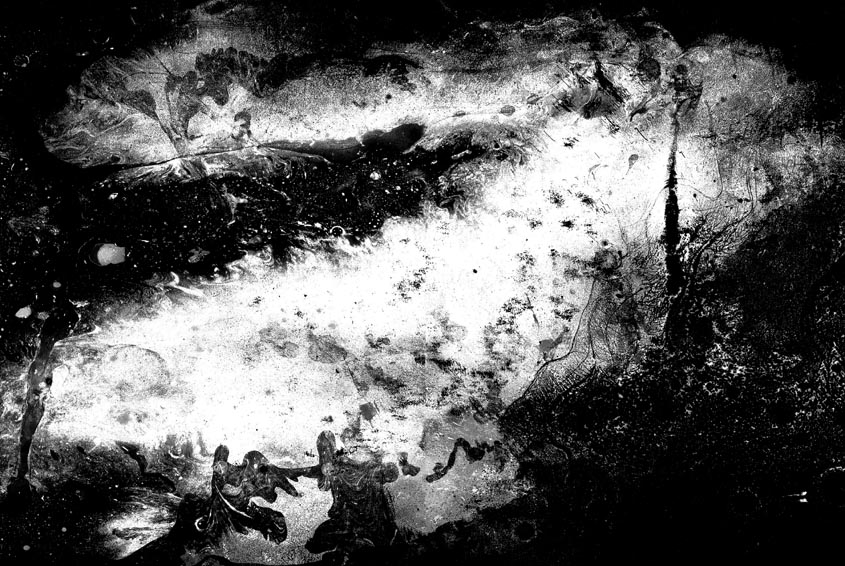 BLEEDING BLACK NOISE
Locatie Z, Willem Dreespark 312 (Den Haag, NL)
November 4-5, 2017
Curator Amelia Ishmael
The exhibition includes artworks by Gast Bouschet & Nadine Hilbert (Brussels, Belgium), Faith Coloccia (Seattle, US), Niels Geybels (Antwerpen, Belgium), Alessandro Keegan (New York City, US), Max Kuiper (Arnhem, Netherlands), and Michaël Sellam (Paris, France). Together their works on paper provide encounters with dust, electromagnetism, sympathetic magic, ecology, politics, and a passion for storms. Each of the artists are involved in experimental music—as active musicians or collaborators.
EVENTS:
November 4 – Exhibition Opening: 19:00-22:00
November 5 – Screenings & Performance:
19:00 video screening – .blacK~SSStaTic_darK~fuZZZ_dOOm~glitCH.
.blacK~SSStaTic_darK~fuZZZ_dOOm~glitCH. is a screening program inspired by storms and digital sorcery or, more pointedly, it is an assemblage of lights and sounds to elicit a chaotic vortex of smudgy black charcoal that is streaked with freezing water, painted on celluloid, stained by sea creatures, hexed through new media, and entranced by guitar riffs. Artists included are Aldo Tambellini, Cultus Sabbati, Gast Bouschet and Nadine Hilbert, jonCates, mojo (for Aluk Todolo), Reto Mäder and Daniel Steffen (for Ural Umbo), Alexander Stewart, and Semiconductor.
20:00 video screening – Noise Crush + The Fortieth Day (Lisa Slodki & Isidro Reyes & Mark Solotroff) at Sector 2337, Chicago
20:30 video poem – Black on Black, poetry reading by Aldo Tambellini
20:45 performance – Les Horribles Travailleurs
THE HOST
We are currently working with artist and costume designer Katie Pollard on a coat inspired by a few of Gast's drawings which Katie describes as "a collaborative piece made in attempt to flesh out a conversation contemplating the death and rebirth cycle, the mystery of creative generation, and the breadth of primal genetic memory. Utilizing mixed media- electricity, leather, and thread- the coat in it's initial iteration will speak to the nervous system as an animating nexus point of energetic transduction, and acknowledge the body as both a necessary vehicle for achieving worldly expression and a limiting, defining vessel to be worked within."
AWAY FROM THAT LINE / IN TOWARD THE EARTH
LP
The music was created for the Night of Radiant Darkness, closing event of the exhibition Metamorphic Earth by Gast Bouschet & Nadine Hilbert, featuring a dance performance by Alkistis Dimech at BPS22 Charleroi, Belgium.
Music: Angelo Mangini & Kevin Muhlen /courtesy of Cotard Collective
Artwork : Gast Bouschet & Nadine Hilbert
Recorded by Petrit Jung at Kulturfabrik, Esch/Alzette, Luxembourg (December 2016)
With the support of Focuna Luxembourg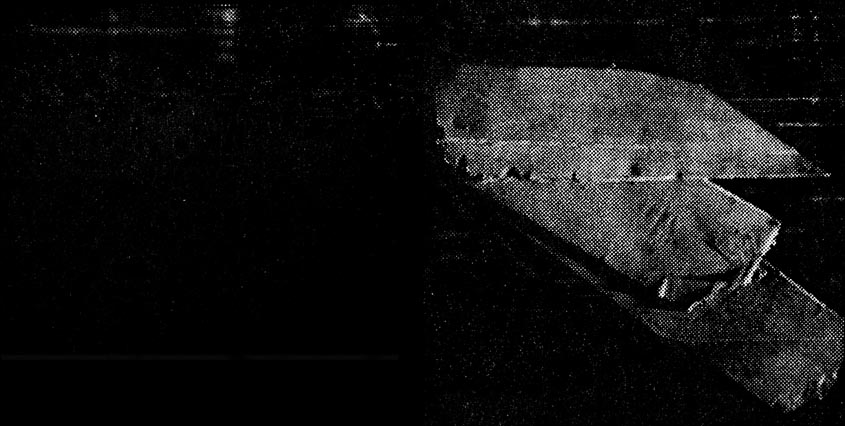 CONCRETE
LP AND CD
Music : Jason Van Gulick
Artwork : Gast Bouschet & Nadine Hilbert
Consouling Sounds, Silken Tofu Records
To be released in January 018
TROIS C-L
3 February 2018, 7 pm
OPEN ARE ALL WAYS BEYOND THE BOUNDARIES OF THE HEART
A sabbatic dance performance, haunting live music and an encompassing art installation collapse into a single, mesmerizing event; a night lighted in primal red.
Alkistis Dimech: Passages through the skin
Dancing fantasmata into flesh, the choreographer and artists explore the interaction of fantasm (image/ghost) with matter in the moving body; the communication that arises through these interactions between insides and outsides, viscera and skin, memory and presence, and the mediums that bind them: sound, light, breath.
Angelo Mangini & Kevin Muhlen: Away from that line, In toward the earth
Music as a vibrational force, an abstract sorcery, unbound and forever moving between immediate and future experience; sonic lifeforms, both physical and spectral, affect and contaminate with an intensity that converts the human body into a space for resonance.
Gast Bouschet & Nadine Hilbert: Poison Oracle
Painting and video installation on metamorphosis and the black art of poisoning; a meditation on the creative-destructive process of personal and suprapersonal change; a poiesis of violation, infection and elemental disturbance.
* The installation includes The Host, a piece produced in association with artist and costume designer Katie Pollard who also created the dress for Alkistis' performance.
Alkistis Dimech is a dancer, choreographer and writer, whose practice is principally grounded in the ankoku butō of Hijikata Tatsumi. She has trained with numerous dancers including Ko Murobushi and Atsushi Takenouchi, and has been performing as a solo artist since 2002. Alkistis Dimech studied Arabic and the History of Art and Music of Asia and Africa at SOAS, University of London, with a particular interest in the dance and theatre forms of South East Asia and Japan. Since leaving formal education, she has continued her investigations into the body and performance, studying diverse dramatic, dance, martial and healing arts. In 2008 she began to advance a personal interpretation of the 'dance of darkness' – sabbatic dance – in which the mythos of the medieval witches' dance is the central motif in a conception of performance and performer that fuses the original radical and subversive impulse of butō with suppressed and neglected aspects of the culture and history of the West.
Kevin Muhlen and Angelo Mangini have been collaborating for almost 20 years, 13 of which as the guitar duo in the Luxembourg metal band ExInferis. After the disbanding of the latter they went separate ways, each in a quest for new musical and sonic horizons. Muhlen formed the post-metal band soleil noir and on his side Mangini formed Cosmogon. Their respective solo explorations have led them both to venture into drone music.
Gast Bouschet and Nadine Hilbert began collaborating in the 1990s. They have since created a complex body of work that challenges the fundamental principles underlying structure, visibility and power. Their practice spans an extensive range of media including photography, sound, video, painting and text based work. Bouschet and Hilbert's interventions are put into effect in marginal places and wilderness areas away from the public gaze as well as in contemporary art institutes and music festivals including Serralves Foundation, Porto, Portugal; BPS22, Charleroi, Belgium; Insomnia Festival, Tromsø, Norway; Bozar Brussels, Belgium; Darling Foundry Montreal, Canada; Cube Space Taipei, Taiwan; Philharmonie, Luxembourg; Muzeum Sztuki Lodz, Poland; Casino Forum d'Art Contemporain, Luxembourg; Busan Biennale of Contemporary Art, South-Korea; Camouflage Johannesburg, South Africa; Muhka Antwerp Belgium and CCA Glasgow, United Kingdom among others. In 2009 they represented Luxembourg at the 53rd Venice Biennale.
Katie Pollard is a costume designer and founder of Azimuth Clothing. A Bachelor of Science in Apparel Design and further studies at FIT in Haute Couture and Leather Design helped hone her craft; a background in working with vintage clothing and personal styling combined with ongoing research into folk costume, ritual dress, and costume history continues to inform her aesthetic and perspective. Pollard's work explores identity creation, transformation, and the conversation between the body, garment, and society. She incorporates found, reclaimed, and vintage materials in her designs, believing that utilizing pre-existing items supports two interlocking aims- promoting sustainability by reducing production, and drawing on the transformative process of regeneration. A belief in the construction process as an essential design element requires that much of her work be done by hand.
Trois C-L
Centre de Création Choréographique Luxembourgeois
Banannefabrik
12, rue du Puits, L-2355 Luxembourg