WE ARE THEM
DREAMSEQUENCE / WE ARE THEM
12-channel video work and site specific installation, 2006-2007.
Filmscore by The Bomarr Monk and Telephone Jim Jesus.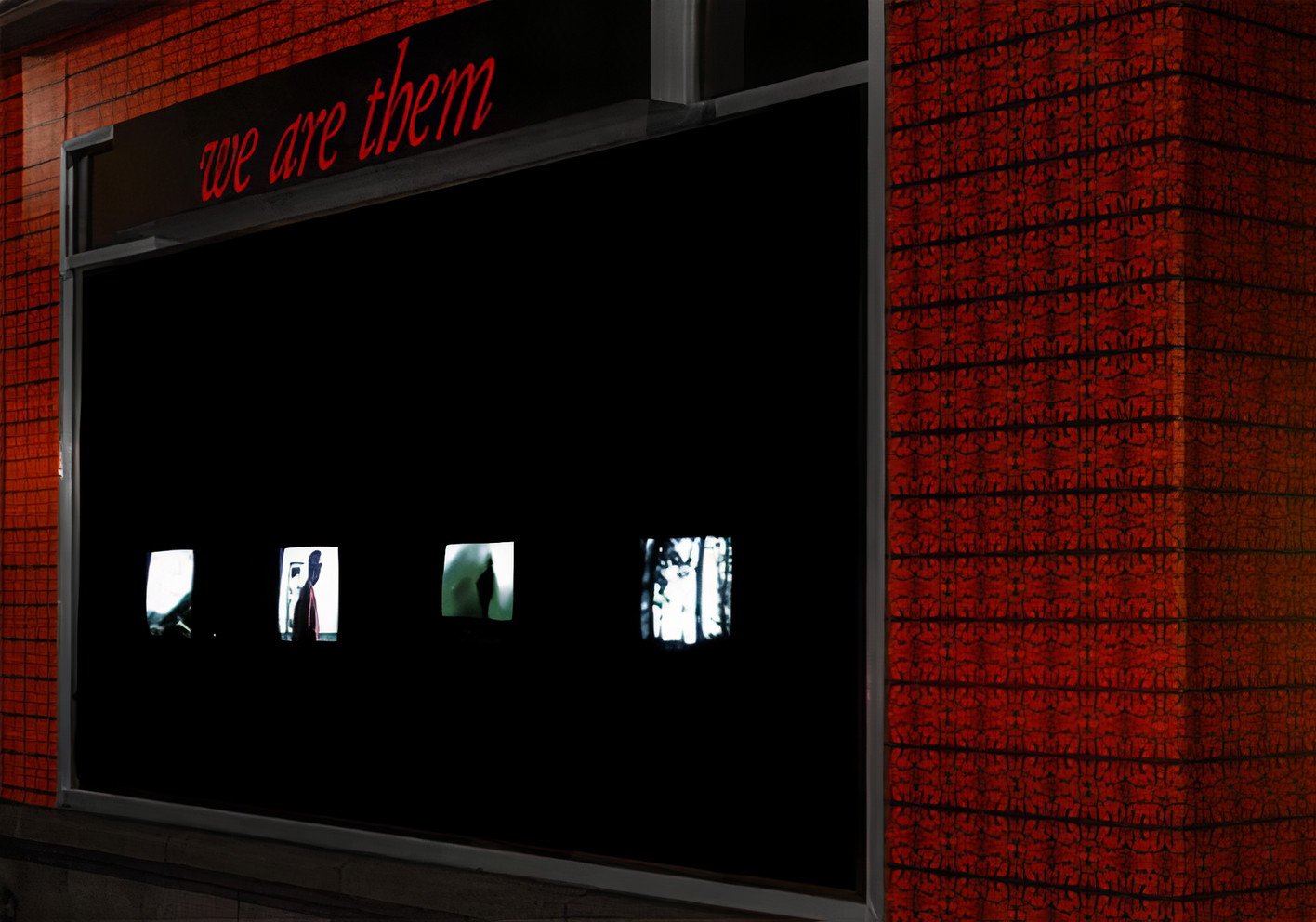 Dreamsequence / We are Them
The installation was on display 24/7.
Ville de Dudelange, Luxembourg
Luxembourg European Capital of Culture 2007
Curator: Danielle Igniti
San Francisco Parano
Nadine Hilbert and Gast Bouschet propose a reflection on sadism perpetrated throughout the world and question the possibility of a shared living.
The sun hits hard this Saturday afternoon the streets of Dudelange and the windows of the avenue Grand-Duchesse Charlotte, which host the installation "we are them" elaborated by luxembourgian artists Nadine and Gast Bouschet. Clothed in black, the windows accommodate twelve video monitors which broadcast red-yellowish, like recolored looped images of a paranoid San Francisco analyzed by the artists. The sap of the trees of the surrounding National parks moves in acceleration under a light weight sun. Veiled women gaze in our direction, the mast of a ghost ship approaches dangerously the coast, the gay quarters are observed, nature observes, the roles are inverted. We miss to find a cut ear in the grass of some wasteland. Philip K. Dick, the great american science-fiction author told us that genuine paranoia happens when everything, even the objects that surround us, start to tackle the brain.
we are them is inscribed in blood-red on the front of the building. A chequered illustration pattern taken from the icons of the Ku Klux Kan garnishes the whole exterior structure like the tiled walls of a butcher shop. Refinements and arabesques, where men inflict violent punishments on hooded slaves, black on red, refer to the age of the Inquisition. Allusions of torture and barbaric violence perpetrated in the prisons of Abu Ghraib and Guantanamo come to mind. In this identification process, we could be these same torturers or victims. What does this 'We' mean, formation of an artificial union which inevitably rejects 'the Other'? 'We' doesn't exist and by the way, who has ever seen a 'We' stroll through nature, asked Derrida.
Inside of the abandoned building (exceptionally accessible on the night of the opening), hides the sub conscience, the descent to hell, and some hope to find Jacob's ladder. A black hooded figure accommodates the visitor. A malediction which haunts the scene, a nightmare which has taken human form. A bad soul strolling through the collective unconscious. A sick yellowish neon glow. It's a figure which recurs over the centuries. Faceless, but recognizable, always getting stronger and more revenging. Which leaks out hate. A disquieting anonymity, the fear of being punished. Crime and punishment, tools of torture, claws, burns, the stretching of limbs evoke hours of torture of the disfigured. Despite a better term, let's call the spirit Bob as a reference to the malefic presence of evil in David Lynch's woods.
Like bewitched cries and screams from the obscure depths of History, the experimental soundtrack developed by the Bomarr Monk and Telephone Jim Jesus around San Francisco echoes into the street of Dudelange. Nadine and Gast Bouschet propose a reflection on sadism perpetrated throughout the world and question the possibility of a shared living and of a possible redemption following the scourges and hidden crimes which haunt the unconscious. Paranoia harks back and hovers over the alleys of human madness, disappears just to arise stronger again and reclaims its due, vengeance or forgiveness, while San Francisco vanishes.
(Didier Damiani – d'Land, 20 avril 2007 – translated from French)
San Francisco Parano
Nadine Hilbert et Gast Bouschet proposent une réflexion sur les sadismes perpétrés dans le monde et s'interrogent sur la possibilité d'un vivre-ensemble.
Le soleil tape ce samedi après-midi dans les rues de Dudelange et sur les vitrines de l'avenue Grand-Duchesse Charlotte qui abritent l'installation we are them fomentée par les artistes luxembourgeois Nadine et Gast Bouschet. De noir vêtues, les vitrines emplies de douze moniteurs vidéo diffusent en boucle des images aux couleurs passées, rouge-jaune orangé comme recolorées des environs d'un San Francisco paranoïaque analysés par les artistes. La sève des arbres des grands parcs aux alentours coule à une vitesse accélérée sous un soleil de plomb, des femmes portent le voile et regardent vers l'autre côté de la rue, le mât d'un vaisseau fantôme s'approche dangereusement des côtes, le quartier gay est observé, la nature observe, les points de vue sont renversés. Il ne manquerait plus qu'une oreille coupée retrouvée dans l'herbe d'un terrain vague. La vraie paranoïa, c'est quand tout ce qui entoure et même les objets commencent à s'en prendre au cerveau, prévenait le grand auteur de science-fiction américain Philip K. Dick.
we are them est inscrit en rouge, comme des lettres de sang sur le fronton. Une mosaïque d'illustrations reprise des icônes du Ku Klux Klan garnit toute la structure extérieure comme sur des murs carrelés d'une boucherie. Délicatesses et arabesques définitives où des hommes infligent des punitions violentes aux esclaves cagoulés, noir sur rouge, et renvoient à la période de l'Inquisition. Allusion à la torture et aux violences barbares perpétrées dans les prisons d'Abou Ghraib et de Guantanamo. Dans ce processus d'identification, nous pouvons être ces mêmes bourreaux ou ces mêmes victimes. Que signifie ce ' Nous ', formation d'une union factice qui rejetterait inévitablement l'Autre? Le ' Nous ' n'existe pas et d'ailleurs qui a déjà vu un ' Nous ' se promener dans la nature, interrogeait Derrida.
A l'intérieur (exceptionnellement accessible le jour du vernissage), c'est le subconscient, la descente aux enfers avec l'espoir de trouver l'échelle de Jacob. Une silhouette noire encagoulée accueille le visiteur. La malédiction qui hante le lieu, un cauchemar à forme humaine. Une âme mauvaise qui se balade dans les mémoires collectives. Lueur malade de néon jaune. C'est cette figure qui revient sans cesse au fil des siècles. Sans visage mais reconnaissable, toujours plus forte et revancharde. Qui transpire la haine. Un anonymat inquiétant qui se dégage, la peur d'être châtié. Crimes et châtiments, instruments de torture, pinces à couper, brûlures, étirements des membres évoquent de longues heures de supplices des défigurés. Appelons l'esprit Bob par défaut et référence à la présence maléfique qui règne dans les forêts de David Lynch.
Comme des cris envoûtés, des pleurs qui surgissent des profondeurs obscures de l'Histoire, les notes expérimentales de la bande sonore conçue par The Bomarr Monk et Telephone Jim Jesus autour de San Francisco sont perceptibles jusque dans l'avenue. Hilbert et Bouschet proposent une réflexion sur les sadismes perpétrés dans le monde et s'interrogent sur la possibilité d'un vivre-ensemble et d'une rédemption suite aux plaies et crimes enfouis qui traquent l'inconscient. La parano revient et circule dans les couloirs de la folie humaine, disparaît pour réapparaître et réclamer son dû, la vengeance ou le pardon, alors que San Francisco s'écroule.
(Didier Damiani – d'Land, 20 avril 2007)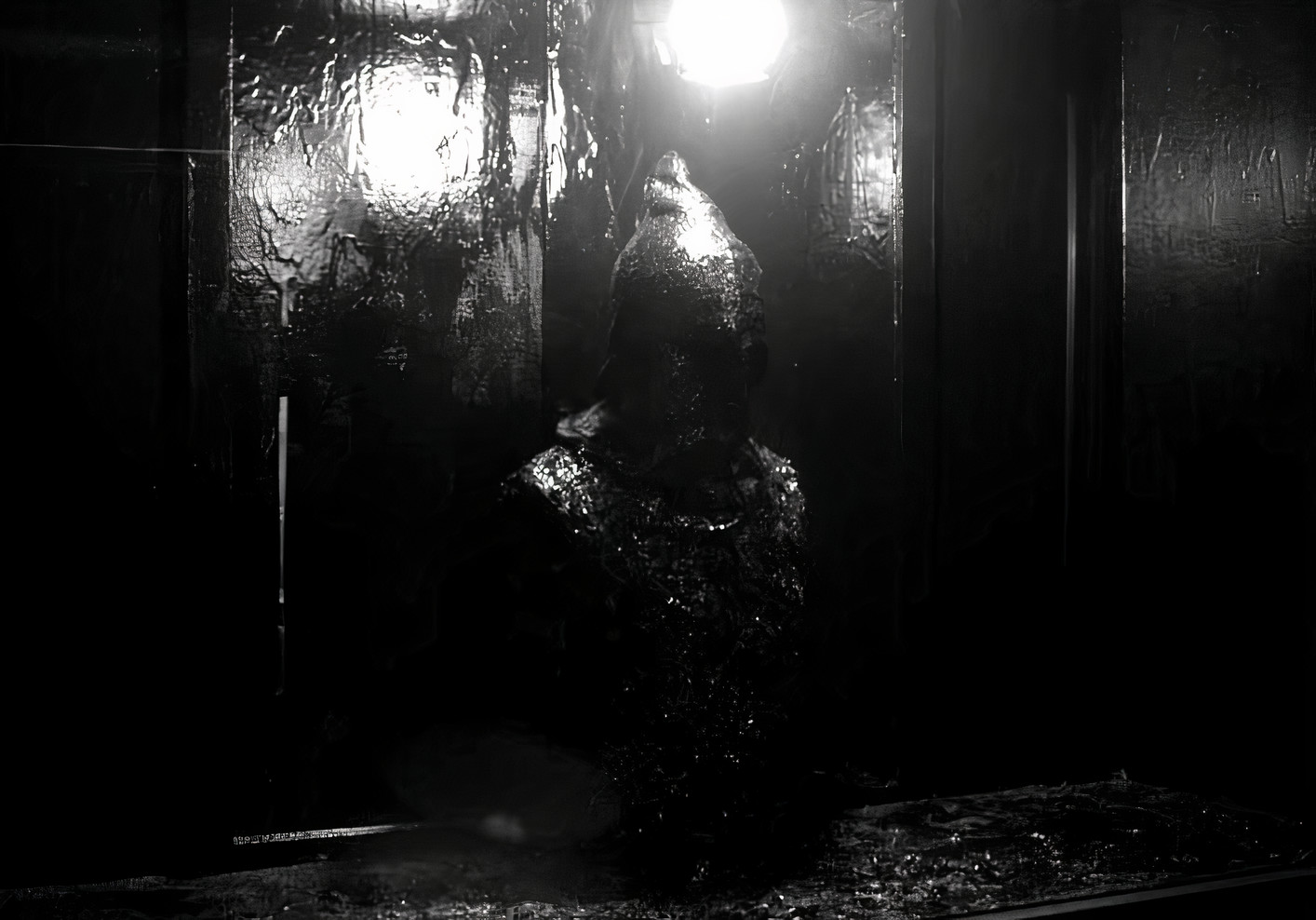 The Hooded One inside the abandoned building.
– DREAMSEQUENCE IN MUTATIONS II, MOVING STILLS, INTERNATIONAL MONTH OF PHOTOGRAPHY, 2008-2009
Berlinische Galerie Berlin, Germany
Maison Européenne de la Photographie Paris, France
Palazzo delle Esposizioni Rome, Italy
MUDAM Luxembourg, Luxembourg
Bast'Art Bratislava, Slovakia
MUSA Vienna, Austria
Moscow House of Photography Moscow, Russia
Curator: Paul di Felice
EXCERPTS FROM THE MUTATIONS II CATALOGUE
* Dreamsequence by Gast Bouschet and Nadine Hilbert, while it may make reference to cinematic history, is intentionally non-linear, blending suggestions of personal politics and attitudes with disconnected fragments of text and sound from many locations. Like a jumble of sensory experiences recalled in a dream it presents a mixture of identification and memory revocation – in short a type of personal catharsis. Any connectedness is left to the perceptions of the viewer to assimilate. It remains culturally political if only to the extent that as an art video it does not seek generally to pacify the viewer, and while it might seek to entertain indirectly, its primary intention is to question the limits of representation and image comprehension. When put literally it challenges the viewer to ask what do these images mean?
(Mark Gisbourne)
* Une oeuvre comme Dreamsequence de Gast Bouschet et Nadine Hilbert, tout en renvoyant à l'histoire du cinéma, est intentionnellement a-linéaire, et mêle l'évocation des postures politiques personnelles à des fragments de textes et de sons divers sans liens les uns avec les autres. Tel le bric-à-brac d'expériences sensorielles qu'on trouve dans les rêves, l'oeuvre présente un mélange d'identification et d'expulsion du souvenir – une sorte de catharsis personnelle en somme. C'est au spectateur d'établir un lien possible entre les éléments. Une dimension politico-culturelle ne demeure qu'en ce qu'une vidéo artistique tend rarement à apaiser le spectateur; elle peut se vouloir indirectement spectacle, mais l'intention première reste d'interroger les limites de la représentation et de l'appréhension des images. Pour dire les choses simplement, la vidéo somme le spectateur de se demander ce que signifient les images.
(Mark Gisbourne)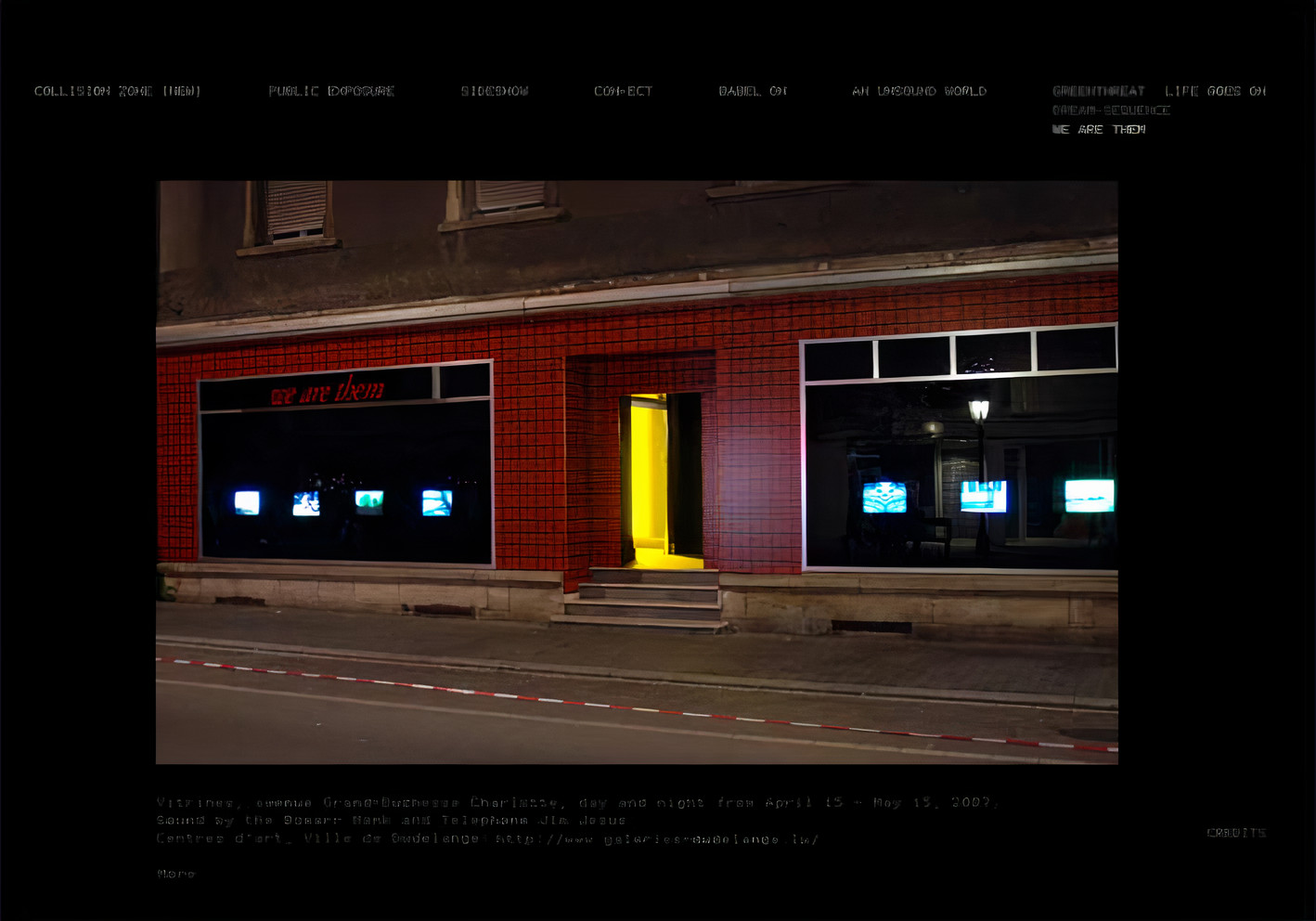 * Gast Bouschet and Nadine Hilbert work together from this perspective: in their videos image and sound are inextricably linked, one contaminates the other and impregnates its coming into being. The image is again most often composed of fixed frames in succession without transition, through accumulation. In Dreamsequence, the camera and the sound deliver bits of the universes crossed (such as misty forests, motorways and city centers) but without letting us settle or follow the gaze. We go from one point of view to another, with repetitions but without the reassuring reference of continuity. The title places this operation in relation to a dream state in which distances are continually crossed, various time-spaces wandered through, the only constant being the subjective viewpoint of the dreamer, and in this case the viewer.
(Mathilde Roman)
* Gast Bouschet et Nadine Hilbert se sont associés dans cette perspective: dans leurs vidéos, l'image et le son sont inextricables, l'un contamine l'autre et imprègne son devenir. L'image est ici encore la plus souvent composée de cadres fixes, se succédant sans transition, par accumulation. Dans Dreamsequence, la caméra et le son nous livrent des bribes des univers traversés, forêt brumeuse, autoroute, centre ville, mais sans nous laisser nous y installer, sans nous permettre de suivre du regard. Comme face à une série photographique, on passe d'un point de vue à un autre, avec des répétitions mais sans le repère rassurant de la continuité. Le titre met ce fonctionnement en relation avec l'état du rêve, où l'on ne cesse de franchir des distances, de déambuler dans des espaces-temps différents, sans autre constante que celle de notre subjectivité de rêveur, et ici de spectateur. L'art vidéo permet ainsi de trouver un rythme qui fasse écho à l'expérience perceptive.
(Mathilde Roman)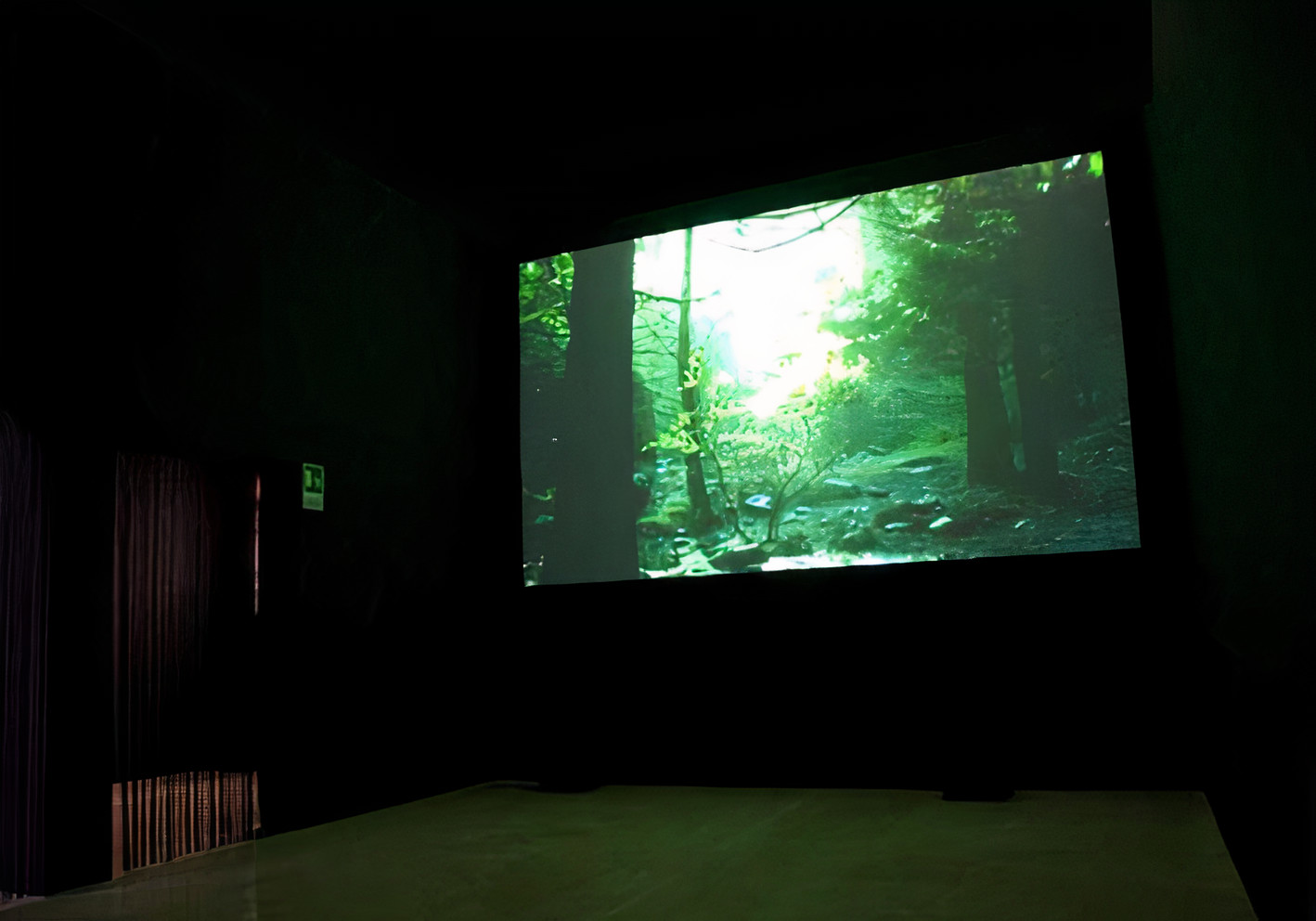 * Cette richesse sémantique et stylistique inhérente à la répétition inspire également Gast Bouschet et Nadine Hilbert dans la construction de 'Dreamsequence', oeuvre vidéographique créée en 2006/2007. En retournant sur les lieux du tournage du film de Philip Kaufman "Invasion of the Body Snatchers" réalisé dans les années 1978, les auteurs réactualisent et re-contextualisent l'idée de paranoïa pour l'usage d'images récurrentes et obsessionnelles. Sacrifiant à dessein le réflexe conventionnel d'une narration linéaire, cette séquence onirique à la fois poétique et politique, repose sur un réseau relationnel entre fragments de vidéo, sons et textes qui interroge notre objectivité et mobilise toute l'acuité de notre perception.
(Jean-Luc Soret)
* The semantic and stylistic richness inherent in repetition has also inspired Gast Bouschet and Nadine Hilbert in the construction of 'Dreamsequence', a video work created in 2006/2007. Going back to the location of Philip Kaufman's film «Invasion of the Body Snatchers» made in 1978, the artists update and re-contextualize the idea of paranoia via the use of obsessively recurrent images. Deliberately sacrificing the conventional reflex of linear narrative, this poetic and political dreamsequence hangs on a network of relationships between fragments of videos, sounds and texts which challenges our objectivity and hones our sharpest perceptions.
(Jean-Luc Soret)

Dream Sequence (Prelude to We are Them).
San Francisco and its surrounding forests and military activities, filmed by Gast Bouschet.
Music by The Bomarr Monk and Telephone Jim Jesus.
Field recordings by Nadine Hilbert.